Things to do around Fano
Fano is not only a vacation destination, it is also a strategic point for those who want to visit its surroundings.
From inland hills, to the peaks of the Apennines, via long beaches and paths ideal for trekkers. One of Fano's great strengths, in fact, is its geographical location. Staying here you can visit villages, towns and nature reserves within an hour's drive. One is spoiled for choice.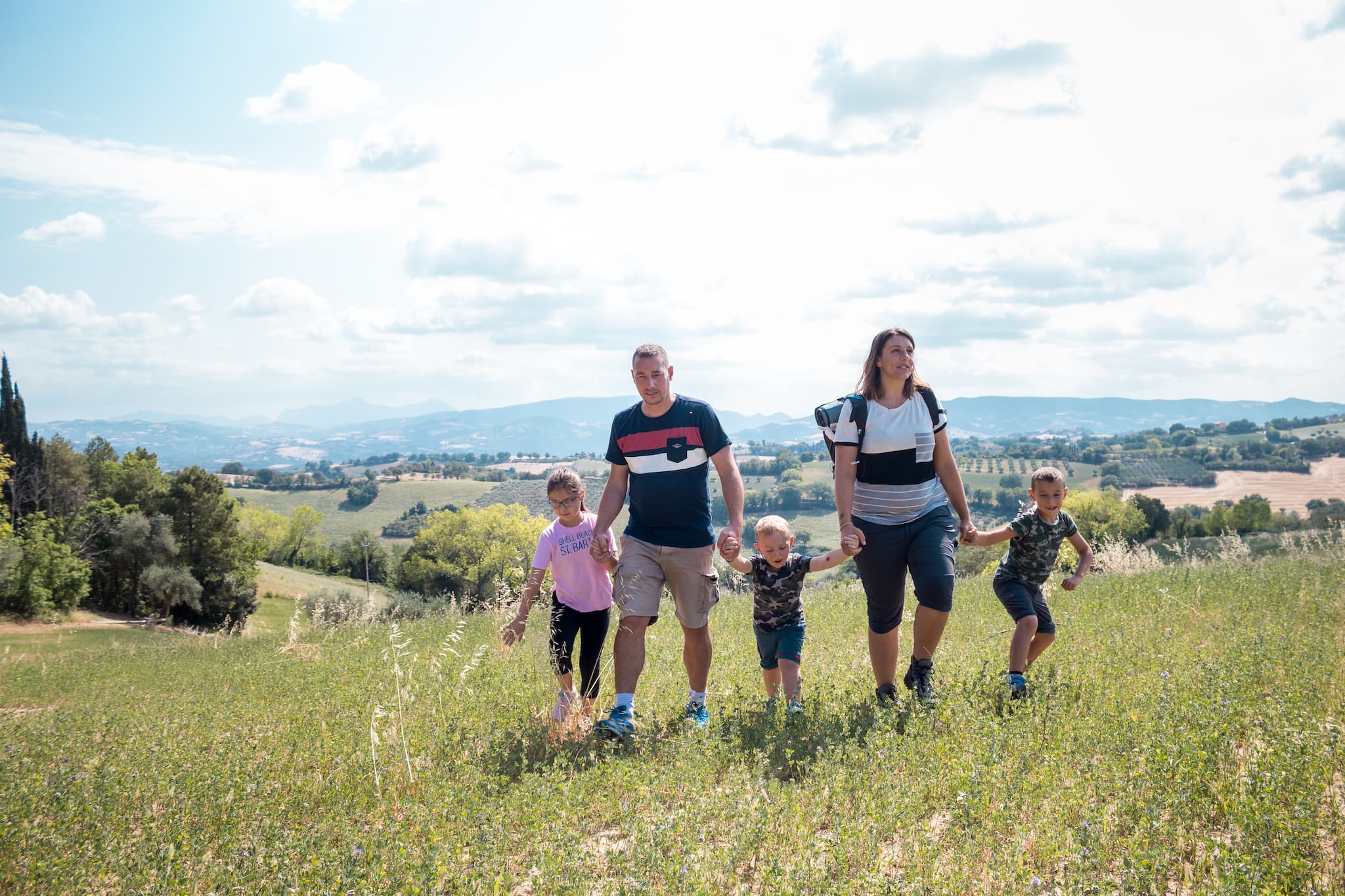 ---
The most beautiful villages and municipalities around Fano
Le Marche is a region rich in small perched towns surrounded by greenery, capable of providing breathtaking views and small gems that are nothing short of amazing.
One of the best-known places, reachable in just over thirty minutes by car from the city center, is Gradara, a small town that has won the title of "Italy's Most Beautiful Village" 2020, a prestigious award that does justice to the beauty of the imposing fortress that looms over the hills. An attraction suitable for all ages, Gradara is undoubtedly one of the most beautiful places in the region.
Also definitely worth mentioning is the neighboring city of Pesaro, which can also be reached thanks to a beautiful bike path that runs along the waterfront past bars and bathing establishments to Baia Flaminia, the city's last stretch of beach.
Heading inland from Fano, there are just as many magnificent villages that are worth a visit. From Saltara, to Montemaggiore al Metauro, via Fossombrone, Cagli and the beautiful Urbino, one of the area's flagships. These are all unique and special places, where in addition to being able to visit museums and buildings of various kinds, it is possible to witness beautiful views thanks to the flourishing nature around them.
Looking south, the small towns of San Costanzo, Mondolfo, Orciano, Mondavio with its fortress and Pergola are noteworthy, as well as the cities of Senigallia and Ancona, the capital of the Marche region and an area of outstanding naturalistic interest with the promontory of Mount Conero.
---
Nature attractions
Staying in Fano is also an ideal solution for anyone looking for something closer to the natural world. From the sea, to hiking trails and even ski slopes, the range of offerings for nature lovers is truly vast and suitable for all kinds of needs.
Still starting from the north, the first noteworthy naturalistic attraction is the San Bartolo nature reserve, a park that is home to a variety of trails suitable for Trekking and Mountain Biking, which is also heavily trafficked by road cycling enthusiasts. The final destination is in many cases the small town of Fiorenzuola di Focara, from where there is a wonderful view of the sea. From the historic center of the village, thanks to a picturesque descent, it is possible to access a beautiful beach, a destination for tourists but also for local young people and families.
Still on the subject of beaches, one cannot fail to mention the very famous ones that can be found in Ancona, popular destinations for tourists from halfway around the world. From Sirolo to Numana, via the Due Sorelle or the Sassi Neri Beach, these are all places easily reached in a short time from Fano and definitely worth a visit.
For trekking and mountain biking enthusiasts, the offer is also really wide. In addition to the aforementioned San Bartolo, within a 30-minute drive it is possible to access so many places such as the Furlo National Reserve with its incredible canyon (the Furlo Gorge) that is home to enchanting peaks, rivers and valleys, the splendid Marmitte dei Giganti in Fossombrone, Mount Nerone, Mount Catria and Mount Acuto. On some of these mountains it is also possible to access active ski facilities in the winter season.
---
Valli a Scoprire: the portal of experiences
For some time now, the Marche Region has been pursuing a whole series of initiatives aimed at enhancing the area and its countless attractions. One of these is "Valleys to Discover – Places of Interest between Metauro and Cesano."
It is an initiative realized thanks to the contribution of the Marche Region that has resulted in the creation of a portal from which it is possible to explore and book initiatives, attractions and activities that can take place in the areas of the municipalities that have joined the project: Cartoceto, Colli al Metauro, Fano, Fossombrone, Fratte Rosa, Mombaroccio, Mondavio, Mondolfo, Montefelcino, Monte Porzio, Pergola, San Costanzo, Sant'Ippolito, San Lorenzo in Campo and Terre Roveresche.
The site, available
at this link
, is divided into several sections:
Live and enjoy the experiences: here you can find information on activities to do in these enchanting places.
Eat local dishes: a section devoted to local farmhouses and restaurants.
Sleep in our facilities: here you can choose from our affiliated facilities to stay in.
Events: where to find detailed info on area events such as fairs, village festivals, and more.
An ideal tool for anyone who wants advice on what to do during his or her time around Fano.